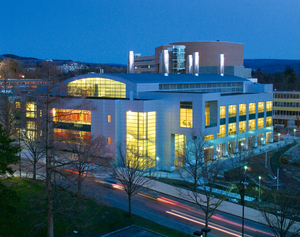 CNF is a world-class facility for micro and nanofabrication. Operating as an open user facility we assist users from across the country and around the world. Over 500 different individuals use CNF facilities every year. They include undergraduates, graduate students, postdocs, and professionals, both those experienced in nanotechnology as well as novices. Projects range from pure university research to product development for small and large companies. Our flexible equipment and policies allow us to undertake projects that would not be possible in many other nanofabrication environments.
The distribution of our users from across the continental US is shown in the map below.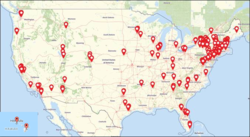 CNF facilities are flexible (materials, wafer size, processes) and we have expertise across the broad range of nanotechnology applications. Our facility have been serving users for over 40 years and our staff has more than 500 years of nanofabrication experience in a variety of academic and industrial environments. Although we are available for electronics projects, we are not a typical microelectronics facility. We have a particularly strong effort in support of life sciences, e.g. sensors, microfluidics, textured surfaces, etc., as well as significant efforts in support of MEMS (micromechanical systems), photonics, and novel materials. In particular, we have extensive resources for lithography at the highest resolution. We invite you to explore out Research Accomplishments to see some "typical" recent projects.
While we certainly support a broad range of Cornell research programs, we operate as a separate user facility whose only mission is to support all of our users. Facility usage is charged on a per hour basis, varying by tool. Rates are highly subsidized for academic users while industrial users pay a market equivalent rate. You only pay for what you use. Please contact our user program managers to discuss approximate costs for your particular project.
The most common mode of interaction is that users come to CNF to work hands-on in our facility. Our staff will assist in project planning, provide necessary training, and provide advice and assistance as necessary. Depending on the scale of the project, users can come to Cornell for a week, or a month, or more. Some outside users even permanently take up residence in Ithaca. In some cases it is also possible to work remotely, either via CNF staff for simple projects or through independent contractors located here in Ithaca. Project initiation is a lean process and can be accomplished in a few weeks.
CNF is supported by the National Science Foundation as part of the National Nanotechnology Coordinated Infrastructure.
We welcome your inquiries.