2024 CNF FIRST LEGO LEAGUE (FLL) EXPLORE EXPO!
Saturday, April 13th, 2024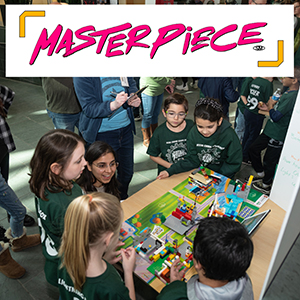 The Cornell NanoScale Facility (CNF) is excited to announce that we will be hosting our annual LEGO FLL Explore Expo on Saturday, April 13th, from 1:00 - 3:30 PM in the Duffield Hall Atrium (343 Campus Rd, Ithaca, NY). Teams of kids, ages 6-10, will show off their work on the FLL "MASTERPIECE℠" challenge!
FIRST® LEGO® League introduces STEAM (science, technology, engineering, art and math) to children through fun, exciting hands-on learning. Participants gain real-world problem-solving experiences through a guided, global robotics program, helping today's students and educators build a better future together. FIRST LEGO League's three age-appropriate divisions inspire young people to experiment and grow their critical thinking, coding, and design skills through hands-on STEAM learning and robotics.
In the MASTERPIECE℠ challenge, which debuted August 1, 2023, FIRST LEGO League teams will imagine and innovate new ways to create and communicate art across the globe.
To be part of the CNF FLL EXPLORE EXPO, please contact CNF LEGO with your name, contact information, and your school name and street address. 
You can also check out our Facebook page. Be sure to LIKE the page to stay up to date with our announcements!
2023 CNF FIRST LEGO EXPO ALBUM 
Photographs by Don Tennant
---
Below is a video from Cornell's 2014 Junior FIRST LEGO League Expo (courtesy of Cornell Chronicle) held January 25 in Duffield Hall. Twenty-four teams from the Ithaca NY area presented "Disaster Blaster"-themed Lego models of their ideas to improve natural disaster preparation, safety and recovery.
General Information about FIRST
FIRST is a nonprofit organization that has developed the FLL and Jr.FLL challenges for other organizations (like Cornell University) to run. The Cornell NanoScale Facility (CNF) at Cornell University operates independently from the FIRST organization, but runs the Expo following the framework developed by FIRST. More information about the FIRST organization and the competitions they organize at the elementary, middle, and high school levels can be found at the FIRST web site.