CNF Staff Present at NNT2023
CNF Staff Present at NNT2023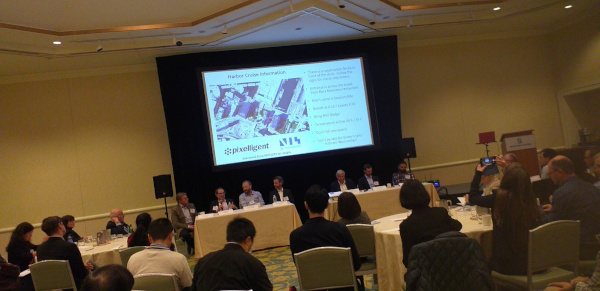 CNF participated in NNT 2023, the 22nd International Conference on Nanoimprint and Nanoprint Technologies, with the presentation of the work "Local Modification of Polymer Properties in Nanoimprint" through Dr. Roberto Panepucci, CNF Staff. NNT is the world's leading symposium on nanoimprint and nanoprint, and took place October 9-11, 2023, at the Boston Seaport Hotel.
CNF's Nanonex NX2500 nanoimprint system is capable of reproducing nanoscale patterns from a 'mold' or 'stamp' silicon or fused silica wafers. The key impact of this technique is that nanoimprint can greatly decrease the cost of structures produced by electron beam lithography, as one 'master stamp' can lead to multiple reproducible patterning cycles on target wafers.
In order to simplify adoption of the technique at CNF, initial research is focusing on a well known polymer, the ebeam resist PMMA, which can also be patterned by the ABM contact photolithography using UVC @ 220nm. In this work, optimizing PMMA nanoimprint is being explored, to meet needs of material systems which are not amenable to other types of resists. The work was with the contributions of CNF 2023 REU Amara Taddeo, and CNF staff John Treichler, Xinwei Wu and Alan Bleier.
NNT2023 brought updates to nanoimprint applications in metamaterials, metaoptics, augmented reality technology as well as advances in nanoimprint manufacturing processes, with both the research and commercial communities represented. In addition to large format panel tools, step-and-imprint lithography with sub 2nm placement accuracy were presented, with resolutions as low as 10nm in feature size. Novel materials that can be directly imprinted were also highlighted, with high index of refraction of an RI ~ 2.0 for optical applications.