2023 Research Experience Undergraduates Program
2023 Research Experience Undergraduates Program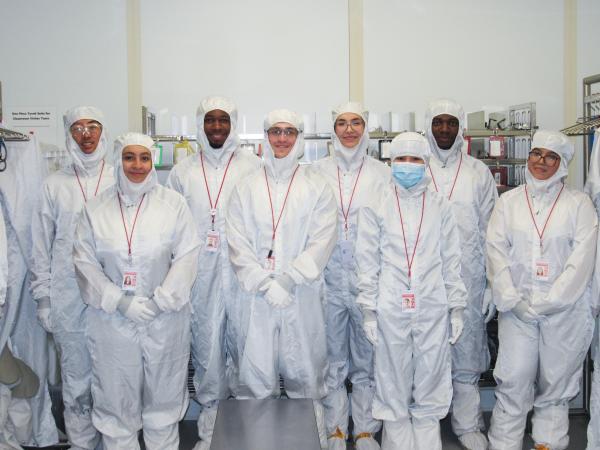 by Jaida Anekwe on October 19, 2023
June 6th, 2023 marked the first day of the 2023 CNF Research Experiences for Undergraduates (REU) program. Students from across the nation converged at Cornell University, to complete the 10 week intensive research experience. Before delving into research, the REU students completed CNF's short course in Technology & Characterization at the Nanoscale (TCN), New User Training, and tools training. 
The REU interns had the amazing opportunity to utilize CNF's most advanced machinery both independently and with the guidance of their mentors and PI's. These machines included the Nanoscribe GT2, Zeiss Supra SEM, Glen 1000 Resist Strip, SC4500 Even-Hour Evaporator, Keithley 4200A - IVCV Testing Station, Arradiance ALD Gemstar-6, MOS Metal Anneal 3 - C1, Nanoimprint NX-2500, P7 Profilometer, Oxford 81/82, MVD100, AFM, SEM, to list a few.
The interns concluded their program with 2023 CNF REU Convocation where they were able to present their findings to their research groups, CNF staff, PIs, and mentors. This year's research topics ranged from applications of wafer scale fabrication, to nanoimprint processes to etching of topological metals. After convocation, interns had the opportunity to present their research live at the NNCI REU Convocation in Montana. The 2023 REU class was led by program coordinator, Ms. Melanie Claire Melanie. 
"I've really enjoyed spending my time this summer at Cornell and learning
about nanotechnology in advanced materials. Of all the internships I've
had as an undergrad, this was by far the best one and I wish it could've
been a little longer than just 10 weeks. I never once imagined that
research would be this fun. I was torn between industry and grad school
after my undergrad, now I plan to apply for graduate school to further
my studies and this is all thanks to you all."
-Astrid Dzotcha Kengne
A full list of REU participants and their corresponding topics, PIs, mentors, and  can be found here:
SAMANTHA AVERITT
Mechanical Engineering, University of California Berkeley
CNF REU MENTOR 1: Roberto Ricardo Panepucci 
CNF REU MENTOR 2: Giovanni Sartorello 
CNF REU PROJECT: NanoScribe Advanced Patterning Techniques for Two-Photon 2D and 3D Structures
PAUL BLOOM
Optical Engineering, University of Rochester
CNF REU PI: Hari P Nair 
CNF REU MENTOR: Bilal Azhar
CNF REU STAFF HOST: Mac McMurdy 
CNF REU PROJECT: Electrical Interconnects Based on Delafossite Thin Films
ASTRID DZOTCHA KENGNE
Electrical Engineering, Morgan State University
CNF REU PI: Judy Cha 
CNF REU MENTORS: Quynh Sam <qps2@cornell.edu>, Gangtae Jin 
CNF REU STAFF HOST: Alan Bleier 
CNF REU PROJECT: Nanomolding of Topological Materials
DANIEL HARRISON
Electrical Engineering, Morgan State University
CNF REU PI: Debdeep Jena 
CNF REU MENTOR 1: Wenwen Zhao
CNF REU STAFF HOST: Aaron Windsor 
CNF REU PROJECT: Monolithic Integration of Acoustic Resonators and High-Electron-Mobility-Transistors Utilizing Aluminum Nitride Platform
BRYAN KIM
Chemistry, UC Berkeley
CNF REU PI: Nicholas Lawrence Abbott
CNF REU MENTORS: Hanyu Alice Zhang, Ayushi Tripathi 
CNF REU STAFF HOST: Tom Pennell 
CNF REU PROJECT: Investigation of Pd-Au Alloys for Sensing and Actuation
NAOMI NARANJO
Engineering, Cornell University
CNF REU PI: Itai Cohen 
CNF REU MENTORS: Zexi Liang <zl467@cornell.edu>, Melody Xuan Lim
CNF REU STAFF HOST: Garry Bordonaro 
CNF REU PROJECT: Wafer-Scale Fabrication of Single-Domain Magnetic Nanostructures
AMARA TADDEO
Chemistry, Allegheny College
CNF REU MENTOR 1: Roberto Ricardo Panepucci 
CNF REU MENTOR 2: Xinwei Wu
CNF REU PROJECT: Nanoimprint Process Optimization for Overlay and Fidelity