CNF Takes on Insectapalooza with Captivating Lantern Fly Display
CNF Takes on Insectapalooza with Captivating Lantern Fly Display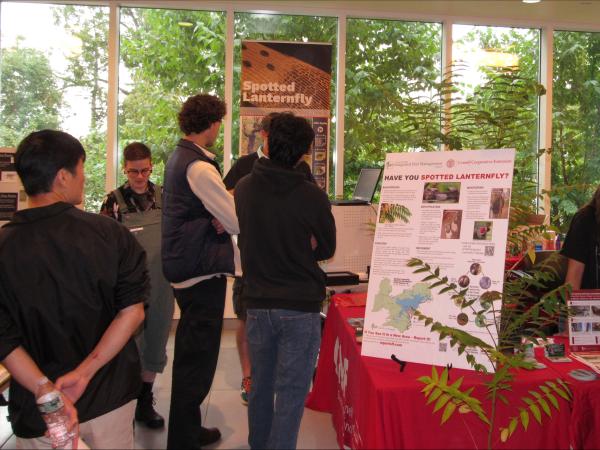 On Saturday September 23rd, CNF participated in the annual Insect Festival, Insectapalooza, hosted by Cornell's Department of Entomology. The event ran from 9am-2pm in Stocking Hall  The experience featured a variety of interactive booths, hosting live insects, spiders, and other arthropods. The event attracted attendees of all ages, including children, teens, and adults.
"Insectapalooza was a great opportunity to show the public the importance of nanoscale exploration in all fields of research." -Tom Pennel
CNF was able to leverage Insectapalooza as an opportunity to combine nanoscale exploration and endocrinology. The CNF booth exhibited spotted lantern flies which people could observe using a portable scanning electron microscope (SEM). The SEM was able to give people a detailed view of the anatomy of the lantern fly, including their legs, head, and wings. CNF's Tom Pennel was assisted by John Grazul from CCMR on the sample preparation. Individuals of all backgrounds stopped by CNF's stand, including researchers from Cornell's Entomology community, to explore the lantern flies through the lens of the SEM. 
"CNF's presence at the event was very well received and we've been invited back for future Insectapalooza events." -Tom Pennel