Updated Dec 15, 2022: CNF Shutdown - Winter 2022/2023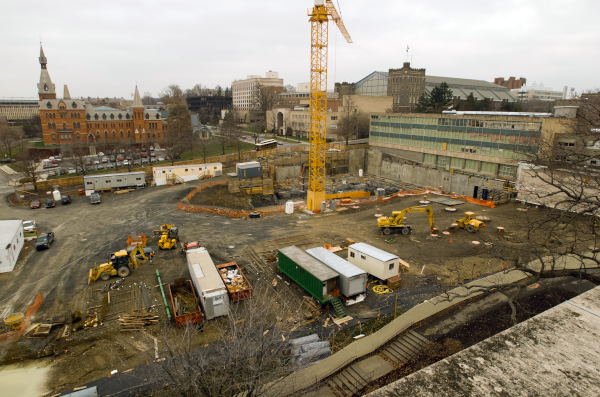 Cleanroom Shutdown Thursday 12/15/22 at 7 am
Hello CNF Researchers,
Just a reminder that the cleanroom will close at 7 am on Thursday 12/15 in order to prep the lab for the upcoming construction/repair work.
I have had a few questions related to user storage - you can leave your samples in the proper assigned storage locations (gray bins, red bins, drawers) Any samples or masks left out on tables will get collected and moved - we need to move most of the tables in the cleanroom to assist the filter change out and loose masks or samples will be in the way.  As you finish up your work, please make sure your samples are properly stored or are removed from the facility.
The second floor lab spaces will close to researchers on Friday morning 12/16.
Phil Infante


PREVIOUS ANNOUNCEMENT
We have received some finer details on the construction timeline for the cleanroom air handler repair, cleanroom HEPA filter replacement, and the 2nd/3rd floor lab exhaust work. The construction team plans to start work at 6am on 12/19/22 on various phases of the project simultaneously. This will mean the cleanroom and 2nd floor CNF lab spaces will need to be safely secured prior to Monday 12/19 when the exhaust fans and air handling units are turned off. This will involve numerous tasks of cleaning out chemical hoods, dumping chemical tanks, evacuation of hazardous gas lines, covering and protecting tools, etc. The CNF spaces will close a few days earlier in order to complete these tasks prior to Monday morning.
The CNF Cleanroom will close at 7 am on Thursday 12/15/22
 
The CNF 2nd Floor lab spaces (201,220,224,228) will be closed at 7 am on Friday 12/16/22
 
The CNF CAD room and P154 Packaging lab will remain open during the construction work
Work on the 2nd and 3rd floor exhaust fans and air handlers is projected to be completed on 1/18/23. Work on the cleanroom is currently projected to be completed 2/14/23. As we learn of any changes to the schedule, we will communicate those changes to the research community. There will be no access allowed in the lab spaces during the construction closure period.